Zombies galore in George Romero's latest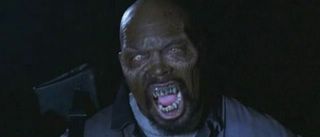 Here's a trailer for George Romero's latest visual opus.
This totally looks like something you can bring Grandma and the kids to
. I'm sure someone will bring their newborn to see it, someone always does. I'm all for Romero and I know he's MR. Zombie and all, but I thought the Dawn of the Dead remake that came last year was brain-popping good. It was intense, fun, gory....all that good stuff. I went back to the original and it was alright. I just dug the faster zombies and the action elements. I know Land of the Dead will have the slower zombies and that looks to be a good thing. This trailer looks pretty intense and gory. Both of which are pre-requisites for a good zombie movie. Am I an expert? No. I just no what I like, and I likes the zombies!!! Grab a leg to chew on and check out the trailer
here
.